The STEM event of the year has returned to The University of Queensland in 2019, with over 600 students from 19 Brisbane high schools putting their best problem-solving minds to the test over three days of competition.
The Science and Engineering Challenge (SEC), run in conjunction with The University of Newcastle, helps Year 9 and 10 students to foster their interest in science, technology, engineering and mathematics, with the hope that more students will consider future careers in these areas.
A group of 32 students from Brisbane Girls Grammar School (BGGS) hoped to realise their aspirations to compete at the state or national SEC final, after narrowly missing out with second place in 2018.
This year they placed a formidable fourth place overall, behind Westside Christian College, Queensland Academy of Science, Mathematics and Technology and St Peter's Lutheran College, after the second day of competition.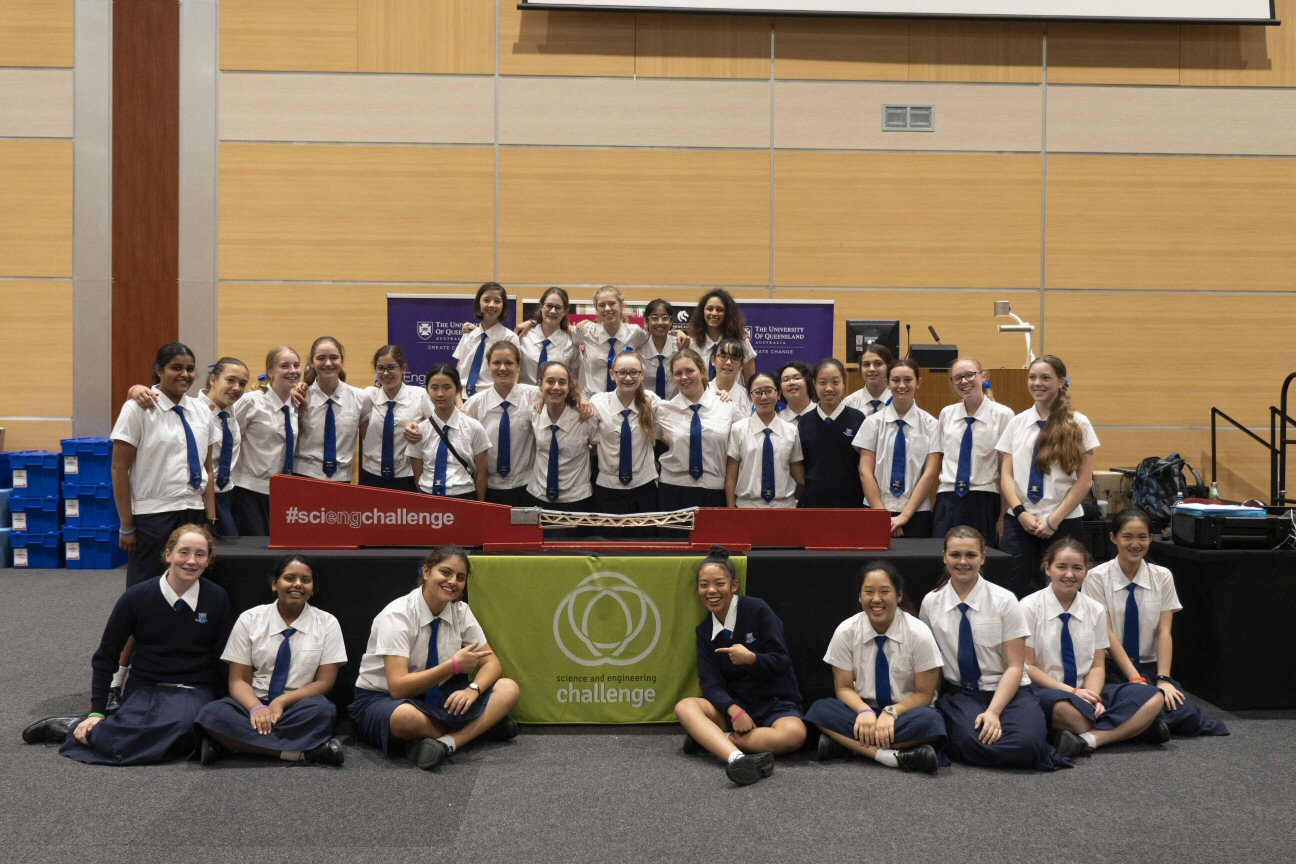 BGGS selects their best and brightest each year to attend UQ for a full day of practical challenges, including designing an earthquake-proof tower, building a hovercraft or bridge, providing electricity to a city or creating an environmentally friendly house.
The exhilarating day of hands-on activities culminates in the final task, where students put their efforts to the test in front of excited onlookers.
Teams design and build bridges that should withhold loads as weighted ingots (blocks of metal) travel from one side to the other.
Students are encouraged to approach the challenges with creativity, innovation and team work.
Brisbane Girls Grammar School Principal, Ms Jacinda Euler said students appreciate the opportunity to solve complex scientific problems in teams, and compete against other schools.
"Students find the activities both challenging and enjoyable, and embrace the opportunity to apply their quantitative reasoning and problem-solving skills in situations that replicate the workforce and authentic research environments," said Ms Euler.
Year 11 student Bridgette Watkins competed in the 2018 SEC and said it was her favourite maths event of the year.
"The Science and Engineering Challenge is a unique experience outside of the classroom where I can work in a team and be creative."
To find out more about hands-on activities at UQ that are suitable for high school students and teachers, please contact the Engineering, Architecture and Information Technology Outreach team on outreach@eait.uq.edu.au