Two cyber security students, a political science brain and a latin-dancing criminology PhD candidate walked into a secure vault...
It sounds like the start of a joke, but this motley team from The University of Queensland stopped the judges - and their competition - in their tracks last week at the Cyber 9/12 Strategy Challenge in Canberra.
Cyber 9/12 is a globally renowned competition designed to provide students across a range of disciplines with a deeper understanding of the policy challenges associated with cyber crisis and conflict.
This is the first year that the UQ Cyber Squad has competed in this high-stakes game of international politics.
Together, students Haoxi Tan, Tim Kallioinen, Chris McEwan, and team captain Kelsy Luengen tackled a hypothetical, yet realistic scenario featuring a cyber-attack on an Australian oil refinery with international peace-keeping ramifications.
They analysed the scenario, complete with red herrings and escalating conditions, and advised a panel of judges (government officials in the scenario) on their suggested policy responses over a series of rounds.
Their job was to guide the officials to the best outcome which would minimise the threat to national, international and private sector interests.
UQ Cyber Squad's coach, Associate Professor John Williams said the team did a fantastic job, especially considering they were first-timers up against well-oiled teams that included a group from West Point Military Academy in the US, who train daily for this type of activity.
"It was very impressive how the UQ team came together so quickly and developed effective strategies for working together, bolstered by their diverse backgrounds," said Associate Professor Williams.
PhD student Chris McEwan has an international relations and policy background, and being part of a cyber security-based competition was a brand new experience for him.
"It was intimidating going in, but once we were competing the worry dropped away as we were so intensely focused on the exercise, there was no time to think of anything else."
"Then, when we won Best Written Brief on the first night, we were all really chuffed!
"It was like 'Actually yeah, we can do this. We're not out of our depth'."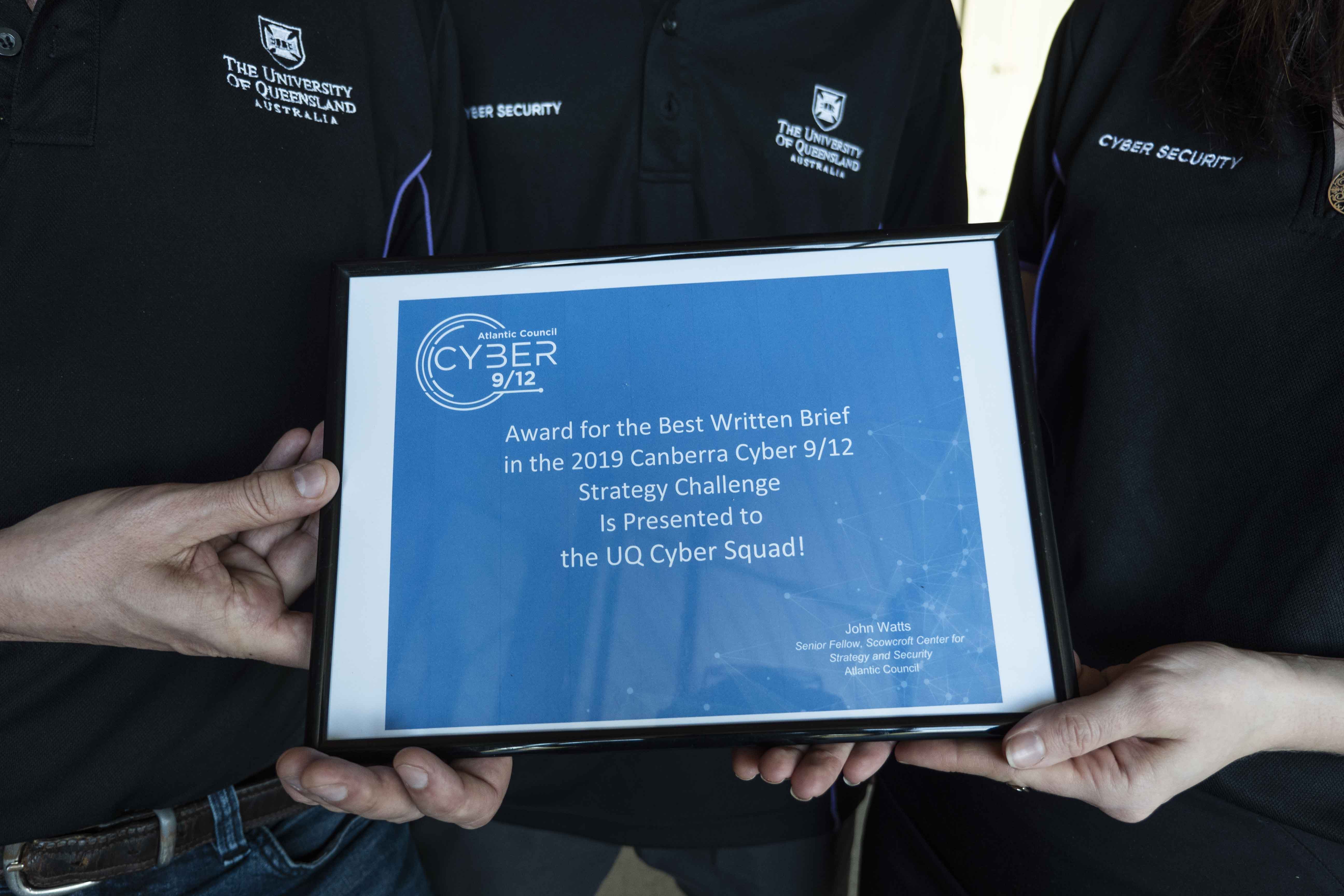 Tim Kallioinen, who is currently completing his Honours Degree in cyber security, said what the team lacked in experience, they tried to overcome with preparedness.
"Both the diversity of our team and the advice provided by experts at UQ proved invaluable during the competition, helping us progress to the final round."
Bachelor of IT student, Haoxi Tan said the team took a creative and collaborative approach to the scenario.
"What we clearly see now is that tech and policy have to work hand in hand – you really can't do one without the other in a scenario like this.
"As a technically-minded person using this experience to learn about the other side, I can now see lot of policy gaps between government cybersecurity policies and real technical capability and potential complications.
"I now better understand the need for technical people and security professionals to be in the conversations with policy-makers, providing advice."
The team went on to knock over veteran teams to win third place overall in the competition, but that wasn't the only highlight, said team captain, criminology PhD student, Kelsy Luengen.
"Being inside Lockheed Martin's secure facility in Canberra certainly added something extra to the experience; perhaps an element of excitement!" said Ms Luengen.
"Competing against the Black Knights from West Point was also a great experience - seeing how different teams approach the competition was an excellent learning opportunity, and it's great to have such a well-respected team raising the calibre of the competition in Australia."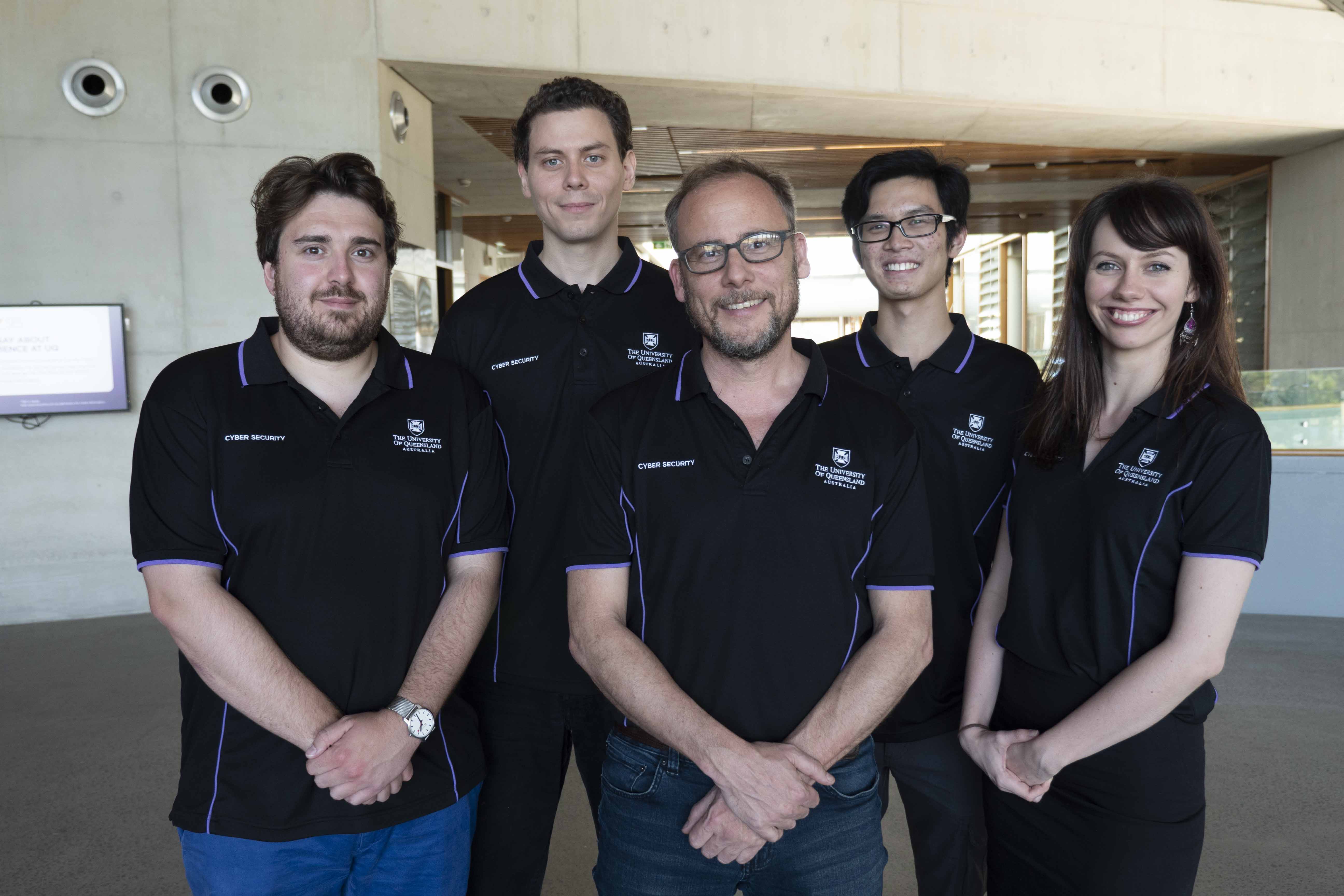 Cyber 9/12 is run by The Atlantic Council and the Institute for Regional Security, in conjunction with industry sponsors and academic partners, and is in its seventh year.
These organisations said that like many nations, Australia faces real security threats in the cyber domain, and we also face a critical shortage of cyber security professionals to address that threat.
Associate Professor Williams said the UQ Cyber Squad team have set the gold standard for how technical, policy and strategic minds should work together in real scenarios like this.
"They really showcased the strength of a multidisciplinary team, and we're looking forward to building this multidisciplinary community at UQ so we can continue to go to events like this one and compete with the best of the best."
UQ launched the most comprehensive interdisciplinary Master of Cyber Security program in Australia in 2019. For more information about the program, please visit the UQ Future Students website.
Media: UQ Communications, Genevieve Worrell, g.worrell@uq.edu.au, +61 408 432 213.