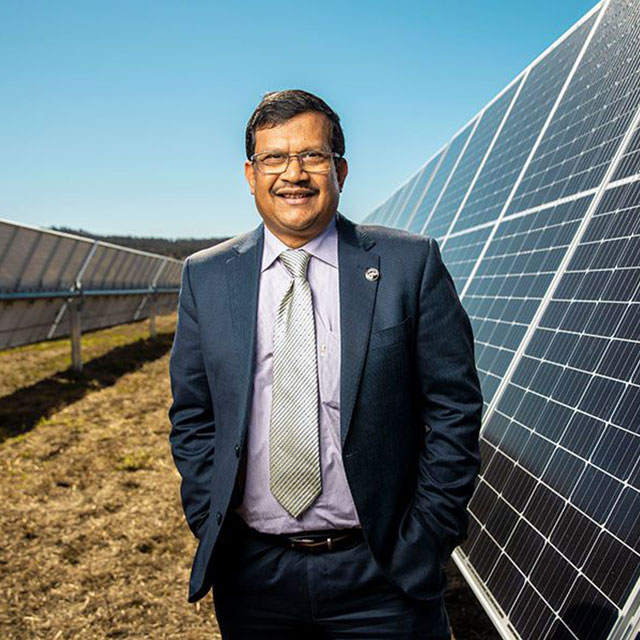 Professor Tapan Saha has been recognised by Engineers Australia for his exceptional and longstanding contributions to electrical engineering.
Currently leading UQ Solar, the UQ Industry 4.0 Energy TestLab, and the power, energy and control engineering discipline, Professor Saha can also add the M.A Sargent Medal to his list of achievements over a distinguished career in power and energy systems.
The M.A Sargent Medal is awarded jointly by the College of Electrical Engineers and the College of ITEE Engineers, Engineers Australia for longstanding eminence in science or the practice of electrical engineering, and is the highest award of the Electrical College board of Engineers Australia.
"I would like to acknowledge the strong support that I have received for my research throughout my academic career through many government funding agencies, and of course, The University of Queensland," he said.
"Particularly, this award wouldn't have been possible without my strong industry collaborations, my PhD students, and my UQ research colleagues over two and half decades at UQ."
"I would also like to thank the Electrical College board and ITEE College board for recognising my contribution in electrical engineering."
Professor Saha received his PhD from UQ in 1994 and has been a staff member since 1996. He has been a Professor of Electrical Engineering since 2005, and has established himself as an internationally recognised research expert in power and energy systems.
His research interests include:
Power systems analysis-renewable energy integration (solar PV and wind)
Long distance transmission connection from renewable energy sources to the main electricity grid
Intelligent diagnostics of aged power transformers and other ageing assets
Solar PV forecasting and large-scale solar farm fault detection and diagnosis
Throughout his tenure, he has received numerous grants from the ARC, ARENA, various competitive agencies and also from the Australian electricity supply industry.
Professor Saha also serves in a number of professional organisations, which includes IEEE, Engineers Australia and CIGRE. And last but not least, he has also established a strong research collaboration with universities in Australia, India, China, USA and Canada.
Professor Saha was a joint recipient in 2022 with Professor Peng Shi from the University of Adelaide.
To learn more about Engineers Australia's list of 2021 Pinnacles winners, please visit their website here.