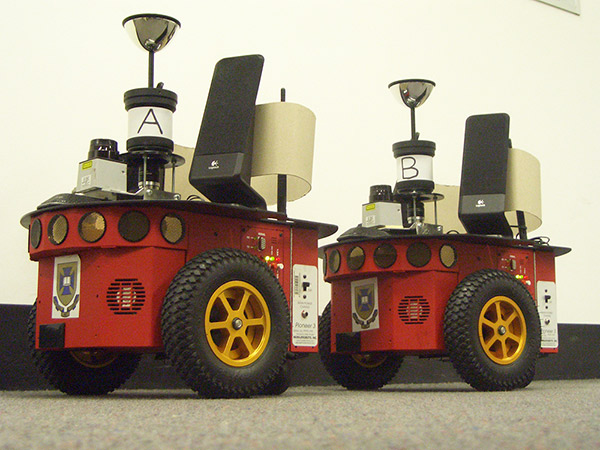 Lingodroids are language learning robots that play location language games to construct shared lexicons for places, distances, and directions.
They invent their own words for space and time through structured conversations:
Toponymic lexicon - the robots play where-are-we games, in which they name the current location, to form a typonymic lexicon, where toponyms are names for places.
Testing a toponymic lexicon - they can test their toponymic lexicon by playing go-to games, in which they attempt to meet at a distant location
Generative games - once they have a toponymic lexicon, they can expand their concepts by playing generative games to form concepts for distances and directions.
The Lingodroids project was funded by the Australian Research Council Discovery Project "Talking with Robots: Evolving Grounded Language for Embodied Agents" (Wyeth and Wiles, 2009-2011)
Lingodroids playing a location language game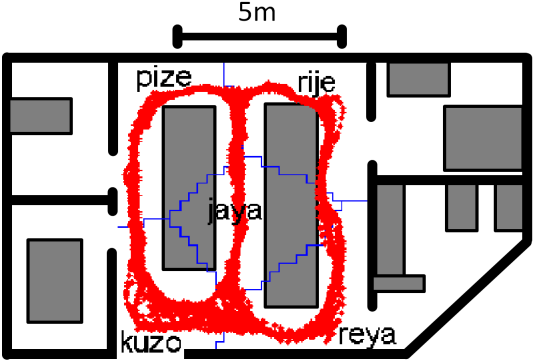 Publications
Heath, S., Hensby, K., Boden, M., Taufatofua, J., Weigel, J. and Wiles J. (2016) Lingodroids: Investigating grounded color relations using a social robot for children, Proceedings of the ACM/IEEE International Conference on Human Robot Interaction, Christchurch, 2016
Heath S., Ball D. and Wiles J. (2015) Lingodroids: Cross-Situational Learning for Episodic Elements, IEEE Transactions on Cognitive and Developmental Systems, 8(1), 3-14
Heath S., Ball D., Schulz R., and Wiles J. (2013) Communication between Lingodroids with different cognitive capabilities, Proceedings of the 2013 IEEE International Conference on Robotics and Automation, Karlsruhe, May 6 - 10, 2013
Ball, D., Heath, S., Wiles, J., Wyeth, G., Corke, P., and Milford, M., (2013). OpenRatSLAM: an open source brain-based SLAM system, Autonomous Robots, 34(3), 149-176
Heath, S., Schulz, R., Ball, D., and Wiles, J. (2012). Long summer days: Grounded learning of words for the uneven cycles of real world events, IEEE Transactions on Autonomous Mental Development, 4(3), 192-203
Schulz, R., Wyeth, G., and Wiles, J., (2012). Beyond here-and-now: Extending shared physical experiences to shared conceptual experiences, Adaptive Behavior, 20(5), 360-387
Heath, S., Schulz, R., Ball, D., and Wiles, J. (2012) Lingodroids: Learning terms for time, ICRA 2012, The International Conference on Robotics and Automation, Saint Paul, MN, May 2012
Schulz, R., Whittington, M., & Wiles, J. (2012). Language change in socially structured populations, In: 9th International Conference on the Evolution of Language, Kyoto, Japan, (312-319). World Scientific, 13 - 16 March 2012
Schulz, R., Wyeth, G., Wiles, J. (2011). Lingodroids: Socially grounding place names in privately grounded cognitive maps, Adaptive Behavior, ​19 6: 409-424
Schulz, R., Wyeth, G., Wiles, J. (2011) Are we there yet? Grounding temporal concepts in shared journeys, IEEE Transactions on Autonomous Mental Development, 3(2), 163-175
Schulz, R., Glover, A., Milford, M., Wyeth, G., and Wiles, J. (2011) Lingodroids: Studies in Spatial Cognition and Language, ICRA 2011, The International Conference on Robotics and Automation, Shanghai, China, May 2011
Schulz, R., Wyeth, G., Milford, and Wiles, J. (2010) Language Change across Generations for Robots using Cognitive Maps, The Twelfth International Conference on the Simulation and Synthesis of Living Systems (ALife XII), Odense, Denmark, Aug 2010
Milford, M., Schulz, R., Prasser, D., Wyeth, G., Wiles, J. (2007) Learning spatial concepts from RatSLAM representations, Robotics and Autonomous Systems - From Sensors to Human Spatial Concepts, 55(5), 403-410
In the news
Get in touch 
For more information about this project, please get in touch 
Professor Janet Wiles 
e:  j.wiles@uq.edu.au