Moving online was a logical move for The University of Queensland's savviest user experience designers, who are refusing to let COVID-19 restrictions detract from their annual landmark event.
After celebrating the UQ Interaction Design Exhibit's 10th anniversary event at SLQ The Edge in 2019, the lecturers and students will be putting on a spectacular virtual exhibition with more projects and more cool stuff to see than ever before.
Lecturer Lorna Macdonald said the students were demonstrating just how remarkably resilient and flexible they are, with the course a very different experience now as to what was planned at the beginning of 2020.
"Despite social distancing restrictions, which have prevented students from working face-to-face in the build and design labs, our students have banded together online, using cutting-edge digital tools and home-grown ingenuity to create insightful design projects," Ms Macdonald said.
"This year, students have designed novel, near-future interactive technologies exploring playful and open-ended interactions in everyday life."
"We are seeing students developing projects that annoy you into changing for the better, that let you 'throw' positive thoughts to distant loved ones and that let you move with colour – they're really amazing, and are a testament to the creativity of our students."
Lucy Davidson, a final-year Bachelor of Information Technology and Business Management student, has designed a device called 'Energy Saving Emily'.
Emily reminds users in a fun and interactive way to be more energy efficient, with the goal of minimising an individual's impact on the environment.
Lucy said the device monitors the environment around her and uses playful, but annoying, tactics like changing colour, vibrating, complaining and singing to alert the user when they are being inefficient.
"For example, if the inside temperature is deemed inefficient compared to the outside temperature Emily will change colour, change her facial expression on the screen, and complain when the user walks past," Lucy said.
"This behaviour will continue to escalate if the user doesn't fix their temperature choice, by beginning to scream robotically and vibrate. If no one walks past to hear Emily complain, she will sing 'Everybody Hurts' by R.E.M to try to get their attention."
"I've had such a great time working on my project this semester and I'm super excited to see everyone's final project being shown at the virtual exhibit!"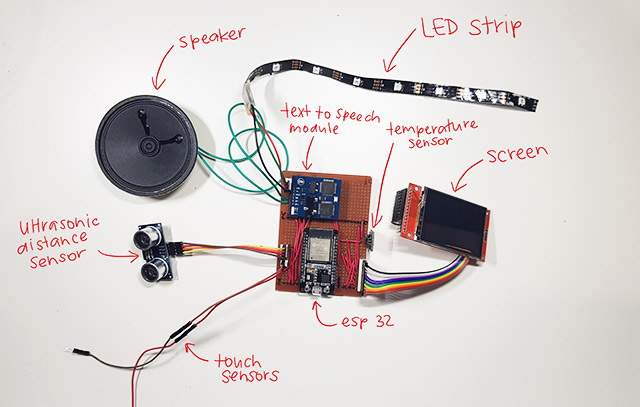 Componentry used in the interactive device
---
Visit the exhibition from 4pm-7pm on Wednesday 10 June 2020 to see this project and others demonstrated live.