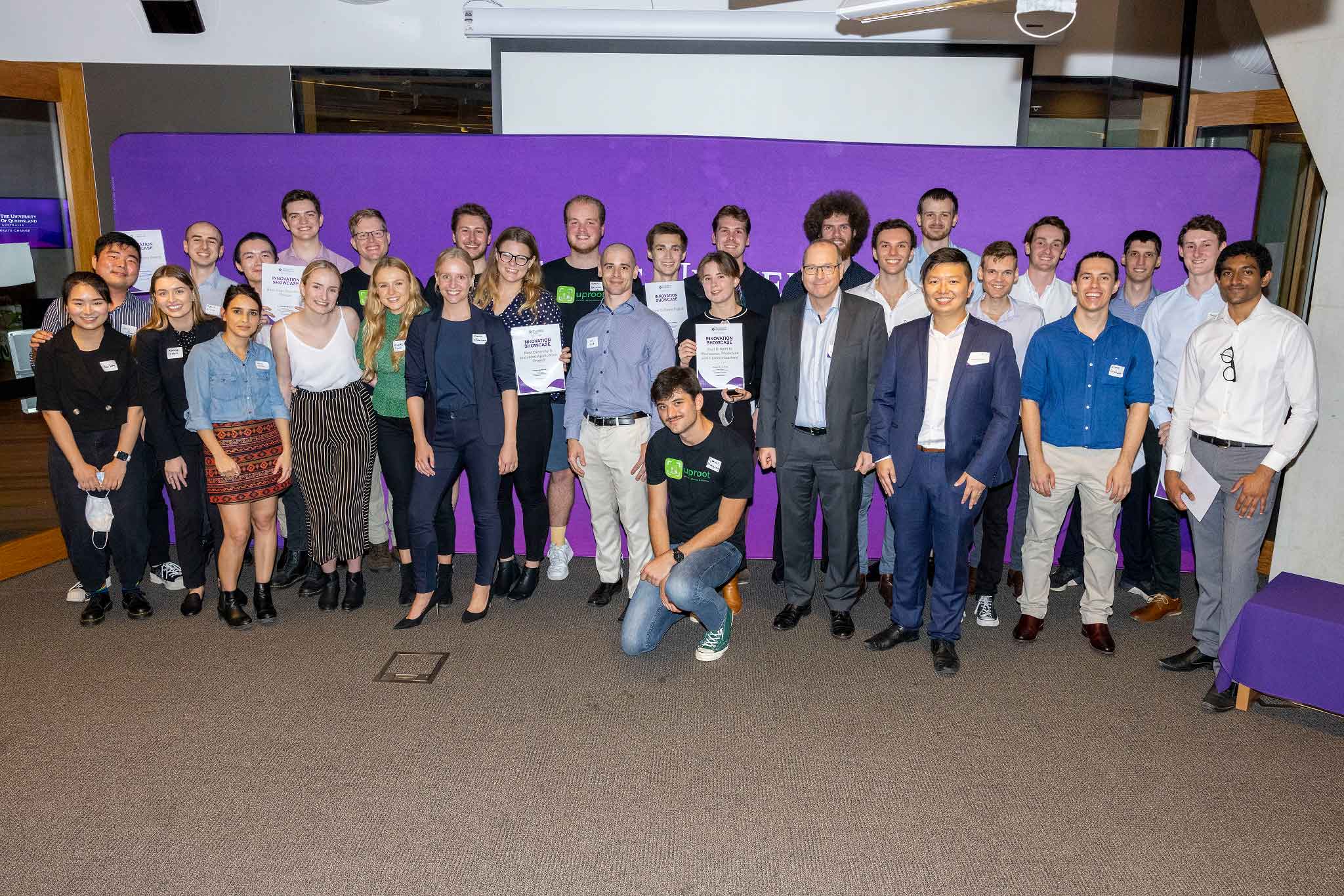 The School of Information Technology and Electrical Engineering has been hosting its Innovation Showcase event since 2012; an event that highlights the range and talent of end-of-year and capstone student project displays.
Students who took part in the event were eligible to win $1,000AUD in prize money, generously sponsored by various industry organisations including; The Australian Power Institute, integratedCAPITAL, Honeywell, Blackbook.ai, Boeing, Cochlear, Data#3, Inspect Real Estate, RGB Assurance, Rinstrum, Shorthand, GridQube, L3 Technologies and Redback Technologies.
Entries this year fell within the broad areas of electrical engineering, information technology, computer science, software engineering, design computing, multimedia design and cyber security. On the evening of Thursday 4 November, over 100 students (across 45 submissions) were able to showcase their end-of-year projects to industry sponsors and guests, VIPs and the wider UQ community. Head of School, Professor Michael Brünig was on-hand to officially launch the evening and awarded the prizes at the conclusion of the event.
Congratulations to the following prize winners:
Best Project in Power and Energy Systems, sponsored by The Australian Power Institute
"An Investigation into Alternative Causer Pays Methodologies for the Recovery of Regulation FCAS Costs" by Joel Bulow
Best Project in Blockchain, sponsored by integratedCAPITAL
"Proof of Worth – Privacy Preserving Proofs for Digital Assets Project" by Lachlan Drury
Best Automation and Control Project, sponsored by Honeywell
"UQ Lake Sensor Network" by Matthew Ziser
Best Diversity & Inclusion Application Project, sponsored by Blackbook.Ai. (A new prize category introduced this year)
"Cozmos – The Creative Online Universe Connecting Adults with ASD" by Vanessa Ackermann, Sophie Bates, Cassandra Carse, Cassia Gulley, Ashleigh-Rae O'Neill and Brooke Powell
Best Project in Avionics and UAV, sponsored by Boeing
"Ascension of the Tiny Giant Robot" by Sam Knynenburg
Best Biomedical Device or Systems, sponsored by Cochlear
"Vibro-Tactile Feedback Device For Rehabilitation" by Adam Baumann
Best Cyber Security and Data Privacy Project, sponsored by Data#3
"E-BART: Jointly Predicting and Explaining Truthfulness" by Erik Brand
Best Non-Thesis Project, sponsored by Inspect Real Estate
"Lake Greenhouse Gas Monitoring using a Capture Chamber" by Brendon Duncan and Isaac Graham
Les Dobson Memorial Prize. Best Project in Systems and Software Engineering, sponsored by RGB Assurance
"Automating information flow analysis using Dafny" by Daniel Parkinson
Best Hardware Solution, sponsored by Rinstrum
"A Real-Time Flood Monitoring Drifter" by Thulith Wilfred Mallawa Kankanamalage
Best User Experience Design, sponsored by Shorthand
"WWI Museum Exhibition" by Roberto O'Connor, Yuzhe Dai, Myoungseok Jeong, Yilin Jiang and Natalia Sarabia Fretes
Best Software Project, sponsored by GridQube
"uproot (Automatic Weed Detection)" by Djamahl Etchegaray, James Sullivan, Hamish Bultitude, Robert Hardgrove, Josef Holownia and Carl Shield
Best Project in Microwave, Photonics and Communications, sponsored by L3 Technologies
"High speed digital modulation/demodulation system using Xilinx RFSoC" by Laura Davis
Project with the Most Commercial Potential, sponsored by Redback Technologies
"Disposable Drones III: Papyrus' Revenge!" by Joshua Andrews
People's Choice Award, sponsored by the School of Information Technology and Electrical Engineering
"WWI Museum Exhibition" by Roberto O'Connor, Yuzhe Dai, Myoungseok Jeong, Yilin Jiang and Natalia Sarabia Fretes
Photos from the Showcase event can also be viewed via the "UQ Engineering and Technology" on Facebook.