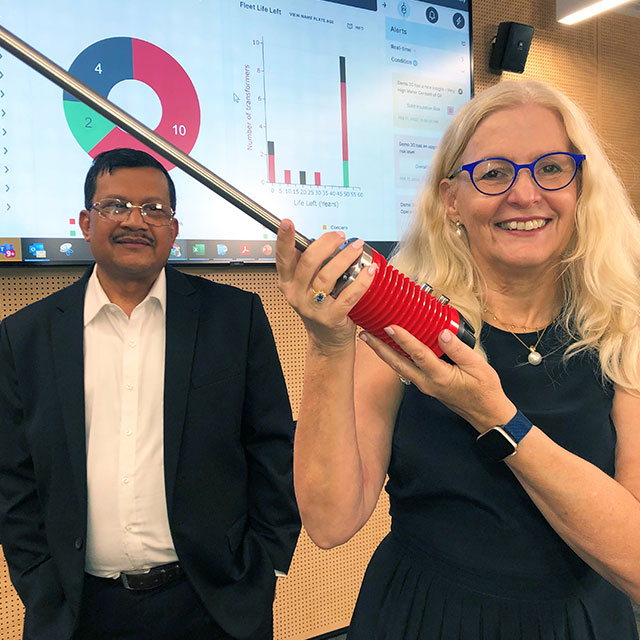 A Brisbane startup company founded on University of Queensland technology to monitor the health of electricity network transformers has been acquired by French multinational Schneider Electric in a multi-million-dollar deal.
Aurtra develops remote industrial sensors to monitor ageing transformers, using patented technology designed at UQ's School of Information Technology and Electrical Engineering by Professor Tapan Saha, Dr Hui Ma, Dr Chandima Ekanayake and Dr Dan Martin.

Professor Saha, who has been working for more than 25 years on transformer monitoring tools said he was thrilled by the news of the Aurtra acquisition.
"As an innovator of some of the original ideas that were licensed to Aurtra, I feel honoured to lead the team involved with the infant stages of the research that forms the pillars of the company," he said.
The sensor technology was licensed to Aurtra in 2017 by UQ commercialisation company, UniQuest.
Aurtra CEO and co-founder Terry Woodcroft said the company quickly expanded into 16 countries, with product developed, supported, and shipped from Brisbane.
"The key was the combination of available capital and software architecture that facilitated ease of product roll-out and support and a unique product that delivered a strong return to the customer," she said.
"It was during this expansion that Aurtra came to the attention of Schneider Electric."
UniQuest CEO Dr Dean Moss said Aurtra's acquisition, just five years after the company was founded, was significant.
"It is remarkable that within five years Aurtra has managed to in-licence the intellectual property from UQ, build a successful company with global sales, and exit on strong terms," he said.
"The remote sensing market is estimated to be worth up to US$2.5 billion and the technology is highly valued by asset managers as a way of undertaking preventative maintenance or controlled shutdowns."
Aurtra's technology provides automated online reports to electricity distributors of a transformer's condition, highlighting insulation problems, damage, and any probability of failure ahead of time.
Ms Woodcroft said the company initially collaborated with major electricity distribution companies in Australia to develop an economical way of monitoring the health of a large and ageing network.
"This transaction just would not have occurred without grant funding from both state and federal governments, including vital seed money from the founders and a Brisbane-based family business, Brice Family Office," she said.
In 2019, Aurtra raised investment capital from UniSeed, startup investors the Melbourne, Sydney and Brisbane Angels and a team of high-net-worth investors.
Dr Moss said Aurtra was one of many IT-based startups founded on licensed IP developed by UQ researchers and commercialised by UniQuest.
UQ associated startups such as Movus Fit Machine (iLab), which provides real-time machine health monitoring, or state estimation software such as GridQube (UniQuest), and machine-intelligent testing software like Turbine Machine Genes (iLab), are already emerging players in this space.
Media contacts:
UniQuest, Brooke Baskin, b.baskin@uniquest.com.au; +61 0409 767 199
Aurtra, Terry Woodcroft, terry.woodcroft@aurtra.net; + 61 0403 495 869