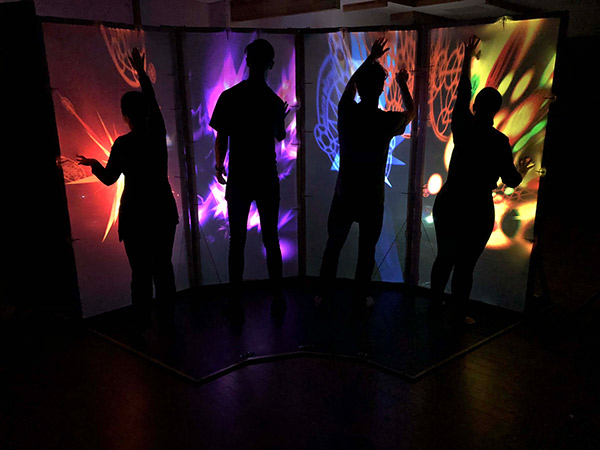 The Soundscape project is exploring HCI and CSCW within the context of creative practice in both composition and performance.
Taking an ecological perspective, it is exploring the relationships and interdependencies that arise between composers, musicians, audience and instruments with the view to identifying what becomes important when designing and developing digital musical instruments. It is a collaboration involving the UQ schools of ITEE and Music.
Soundscape is a New Digital Musical Instrument that allows the digital musician to manipulate and improvise music sources while allowing them to communicate expression through sound and visuals. The digital musicians manipulate the music by their gestures of pressing, swiping and poking four stretch fabric panels. Graphics, projected onto the back of the surface, are responsive to both touch interaction and the sounds that are the result of the interactions. Interactions allow the musician to change effects and vary the loops of the backing music and improvise new music over the background.
SoundScape 2017
Publications
Get in touch
For more information about this project, please get in touch:
Trevor Hunter 
e: trevor.hunter@uq.edu.au