Glowing stepping stones light the way to an out-of-this-world experience at UQ Bloom Festival.
Visitors to The University of Queensland throughout October will not just get to see the beautiful carpets of Jacaranda blossoms, but also enjoy interactive technology developed by UQ's IT and Interaction Design students.
The Interaction Design (IxD) Exhibit will be on display at the end of the UQ Bloom festival from 28-31 October, from 4-8pm, across various locations at UQ.
Students have created four large-scale projects as part of their studies in the Physical Computing and Interaction Design Studio.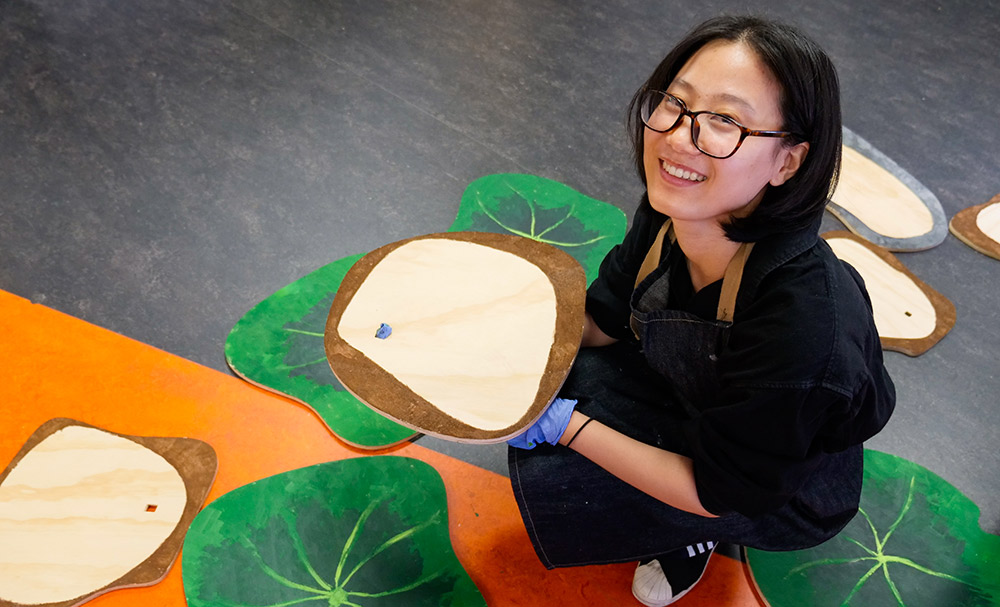 The projects bring people together in a festival atmosphere, exploring nature, light and music, also exploring the concept of human connection in a no-touch and own-touch world, inspired by the restrictions that COVID-19 has caused around the world.
Going beyond traditional user interaction methods – keyboard, mouse, touch and swipe – student teams have designed and developed for novel, physical interaction with and through technology.
The installations:
StraySpace
Developed by Aizel Redulla, Amraj Singh Sukhdev Singh, Gai Jiang and Zhishan Yan
A number of animal spirit friends have become lost on earth and require your help to send them home. The only way to help is by activating and controlling the screaming windmills, otherworldly structures that control the door to the animal spirit realm. Can you hold your nerve long enough to help?
Treenection
Developed by Lachlan McIntyre, Zhijiang Wang, Runan Chen and Wenhui Bui
Participants work together through coordinated, synchronised action to bring to life the tree at the centre of this work. Highlighting the beauty of the natural world, Treenection invites participants to appreciate and contemplate the natural forms around them. And through their shared actions and experience, feel a momentary connection to each other.
Ting
Developed by Jun Jiang, Summer Yang, Nan Xiao, Yipeng Xue and Tiantian Bao
Ting is an augmented path of stepping stones that activate the space through light and sound. Influenced by traditional Chinese garden landscapes, Ting aims to create an experience for people to connect with each other and their natural surroundings.
DJ in the Jungle
Developed by Mengfan Yang, Jiajia Liang, Huiya Jia, Wei Cui and Yi Lu
In the theme of bush raves and jungle beats, DJ in The Jungle uses the natural surroundings to create a space where people can collaboratively create electronic dance music. Lighting responds to the generated music, creating an immersive musical experience.
Visit the UQ Bloom Festival website for more information.