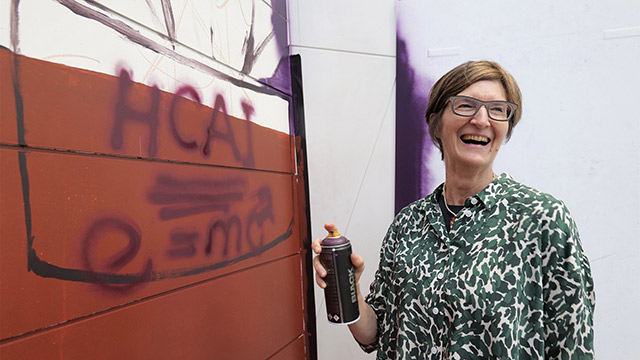 This article was originally published on Queensland AI Hub.
Curiouser and curiouser! A spectacular wormhole to the future has opened at Westfield Garden City on Brisbane's southside.
Impossible to miss, spanning 33.48m² (think eight king size beds or 837 iPads rolled into one), it takes the form of an eye-popping, and soon-to-be interactive, mural, with plans afoot to supersize its narrative via augmented reality.
Born from the novel pairing of The University of Queensland's Professor Janet Wiles and artistic duo Scott Nagy & Krimsone (aka childhood friends Scott Nagy and Janne Birkner, hailing from the Blue Mountains), it perches among four intriguing murals realised in a globally unique urban art initiative, aptly entitled Visualising AI – Science Meets Street Art Co-Lab.
A project designed to canvass – and, ideally, excite – public discourse around creation and use of artificial intelligence (AI) 'for the good of all people and our planet'.
Importantly, inviting curiosity and questioning, with the dual aim of raising community awareness and dispelling myths and misconceptions about a technology that for most people is hard to visualise.
Check out all four strikingly different 'Visualising AI' murals located in high-profile public spaces across Greater Brisbane; curated as a compelling new sub-program of the 2021 Brisbane Street Art Festival (BSAF), thanks to a partnership between Queensland AI Hub and Vast Yonder (the experiential creative agency behind BSAF).