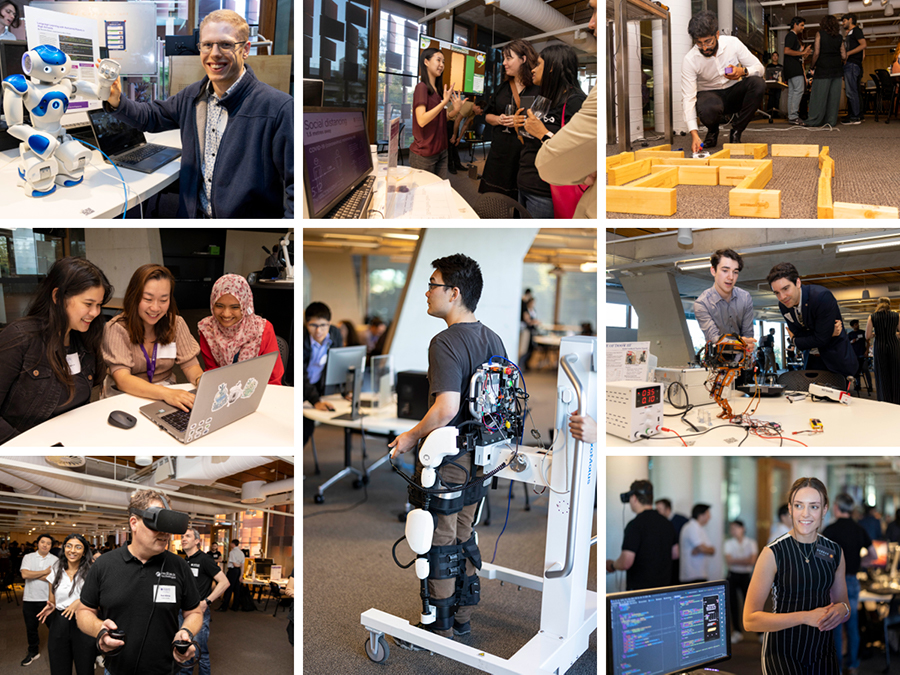 Since 2012, the School of Information Technology and Electrical Engineering has been hosting its annual Innovation Showcase event, which highlights a range of premier end-of-year and capstone student projects.
Students who took part in the event were eligible to win $1,000AUD in prize money, generously sponsored by various industry organisations including; The Australian Power Institute, integratedCAPITAL, Honeywell, Emesent, Boeing, Cochlear, Data#3, Inspect Real Estate, RGB Assurance, Rinstrum, Shorthand, GridQube, L3Harris Technologies, and Redback Technologies.
This year, the exhibited projects fell within a wide range of areas such as electrical engineering, information technology, computer science, software engineering, design computing, and cyber security. On the evening of Thursday 3 November, over 80 students (across 46 projects) were able to showcase their end-of-year projects to industry sponsors and guests, VIPs and the wider UQ community. Head of School, Professor Michael Brünig gave an address and awarded the prizes at the conclusion of the event.
Congratulations to the following prize winners:
Best Project in Power and Energy Systems, sponsored by The Australian Power Institute
"Stability Analysis of a Renewable Energy Hub" by Mei Le
Best Project in Blockchain, sponsored by integratedCAPITAL
"Efficiency Analysis Model of PBFT-based Blockchains" by Zhaolin Li
"NFT-based Event Ticketing Solution" by Komei Jo and Ryan Ward
Emesent Diversity Prize, sponsored by Emesent
"Gamified language learning for teachers and learners creating their own materials" by Ashleigh-Rae O'Neill
"Assistive swimming system for people with visual impairment" by Calvin Atkinson
Best Project in Avionics and UAV, sponsored by Boeing
"Tiny Giant Robot: Baleful Eye of Doom III" by Fraser Ledlie
Best Biomedical Device or Systems, sponsored by Cochlear
"Assistive swimming system for people with visual impairment" by Calvin Atkinson
Best Cyber Security and Data Privacy Project, sponsored by Data#3
"Measuring Cyber Resilience in Modern Organisations" by Edward Tilleard
Best Non-Thesis Project, sponsored by Inspect Real Estate
"Electrical Power Management System for the UQ Mantis Autonomous Aquatic Vehicle" by Brendon Duncan
Les Dobson Memorial Prize. Best Project in Systems and Software Engineering, sponsored by RGB Assurance
"The Effect of Training Data Quantity on Uncertainty in Deep Learning" by Harrison Cusack
Best Hardware Solution, sponsored by Rinstrum
"Water Tank Smart Control" by Harrison Newitt
"Water Tank Smart Cover" by Samuel Beashel
Best User Experience Design, sponsored by Shorthand
"Memory Trail" by Jonathan Tang, Madison Feddema, Maryam Khan, Tam Pham, and William Barker
Best Software Project, sponsored by GridQube
"Atlantis Sinks" by DECO2800 Studio 2
Best Project in Microwave, Photonics and Communications, sponsored by L3 Technologies
"3D Tomography with mid-IR inter-band cascade lasers" by Bryan Herrington
Project with the Most Commercial Potential, sponsored by Redback Technologies
"Computational Thinking, Young Children & Educational Robots" by Royce Danam
People's Choice Award, sponsored by the School of Information Technology and Electrical Engineering
"Signed Explorations" by Aditya Modi, Thomas Webber, Ethan Roderick, Hannah Hinkfuss, Joseph Metcalf, and Treffery Webb
"Sensing the world using EM Signals: Intelligent Transportation" by Matthew Kumar