We are in the fourth wave of ICT in healthcare, with advances in technology being used to deliver services that centre people and are strengths focussed.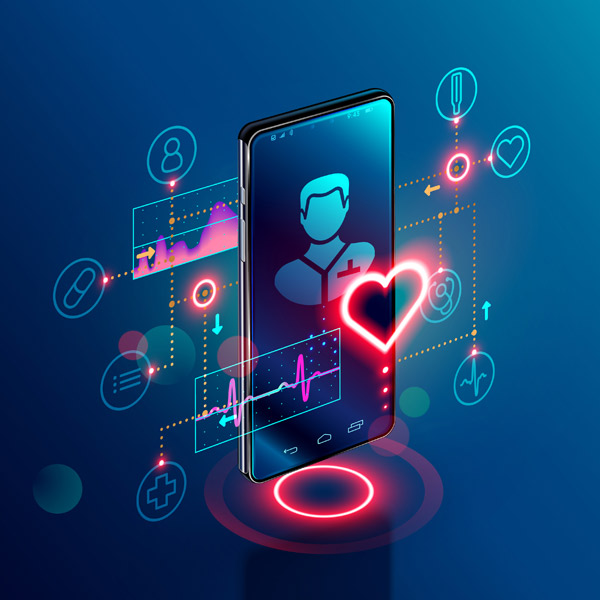 There is growing momentum to realise potential benefits that digital technologies offer in facilitating access to information, self-care, delivering better healthcare and improving quality of life.
At UQ, digital health researchers are focussing on how technology can be used to support improvements in health and quality of life, while considering privacy, security, ethics and stakeholder perspectives to benefit people at both individual and wider community levels.
Our research spans the following areas:  
Affective Computing 
Wearable/Multimodal Sensing 
Applied Machine Learning 
Internet of Things (IoT) (e.g. to reduce Social Isolation) 
Digital Signal Processing 
Visualisation 
Pervasive Computing 
Personal Informatics (Quantified Self) 
Virtual Reality applications for Therapy 
Social Media and Health Discourse 
Health and Wellbeing of Vulnerable Communities 
Remote monitoring of health and participation 
Healthy Ageing, neurology and participation 
Community participation 
Integrating wearables into the patient-centred digital healthcare environment
PhD project supported by joint funding from The University of Queensland and the Digital Health Cooperative Research Centre (DHCRC). In-kind funding has been provided by Garmin™ Australia. Wearable devices allow continuous streams of real-time physiological and behavioural data to be unobtrusively obtained. In collaboration with Queensland Health, this PhD project explores the use of wearable devices in healthcare, specifically within chronic disease, focusing initially on cystic fibrosis patients.
Digital Health Global Change Research Network
This project is sponsored by the Global Change Institute (GCI) to form a UQ-led network around digital health. This multidisciplinary network is composed of stakeholders from a range of disciplines, including clinical informatics, data science, wearable technologies as well as clinical service provision and education and information systems.
UQ Teaching Innovation Grant: Building digital literacy and interprofessional learning of health professional students by embedding teaching cases in an electronic medical record
Since 2018, the Faculty of Medicine has collaborated with the CSIRO Australian e-Health Research Centre, and the School of Information Technology and Electrical Engineering (ITEE) to develop a teaching platform based on an Electronic Medical Record (EMR). This has been supported by the expertise of CSIRO in the adoption of standards in e-health records, as well as the introduction of an EMR across Queensland Health, which has created an ideal climate for this. Our approach has been to integrate case-based teaching within an EMR to enhance the digital literacy of medical graduates tailored to key issues they will encounter once employed. A particular focus of the grant was also to trial a special topic course (COMP3000) around health informatics and digital health, whereby ITEE students were partnered with Faculty of Medicine students/staff (the client) to build a FHIR (Fast Healthcare Interoperability Resources) app for use in a clinical (or clinical education) setting. Pg. 139 – https://anzahpe.org/2020-Conference
Research informed teaching
Since 2018, in collaboration with CSIRO Australian e-Health Research Centre, Professor Mark Braunstein of Georgia Institute of Technology and UQ's Faculty of Medicine, the School of Information Technology and Electrical Engineering (ITEE) has trialled a number of iterations of a special topic course (COMP3000) that is focused around health informatics and digital health. The course gives ITEE students an opportunity to be 'ahead of the game' in this growth area of digital health technology, with a significant aspect of the course being a software development project whereby ITEE students are partnered with Faculty of Medicine students/staff (the client) to build a FHIR (Fast Healthcare Interoperability Resources) app for use in a clinical (or clinical education) setting. FHIR is a next generation open standards framework created by HL7 for exchanging healthcare information electronically. It has quickly become one of the most popular protocols for joining disparate systems together and is based on emerging industry approaches yet is informed by over 20 years of lessons learned around requirements, successes and challenges gained through defining and implementing HL7. In 2021, the COMP3000 special topics course transitioned into COMP3820 Digital Health Software Project, a permanent course within ITEE. This course was also included as a particular focus of the funded UQ Teaching Innovation Grant around building digital literacy of health professional students.
DIY and wellbeing
The ARC funded DE180100687 project has looked into the connections between Do-It-Yourself (DIY) and health and wellbeing of individuals from low socioeconomic communities. This project has explored health benefits for individuals who participate in men's sheds, art and craft groups and other types of maker organization. The project aims to develop a set of technologies that will enable individuals to reflect on their own health and wellbeing.
VR for therapy
This PhD project aims to develop VR applications that can be used by social workers to provide art therapy to individuals struggling with mental health problems. In collaboration with a community organization, this project will incorporate art therapy knowledge in the design of VR applications that can guide social workers and clients to navigate through collaborative art sessions.
Get in touch
For more information about current digital health projects and opportunities to collaborate, please get in touch.